This post is sponsored by Honey Baked Ham, however, all opinions are my own. Thank you for supporting the brands that help make this blog possible.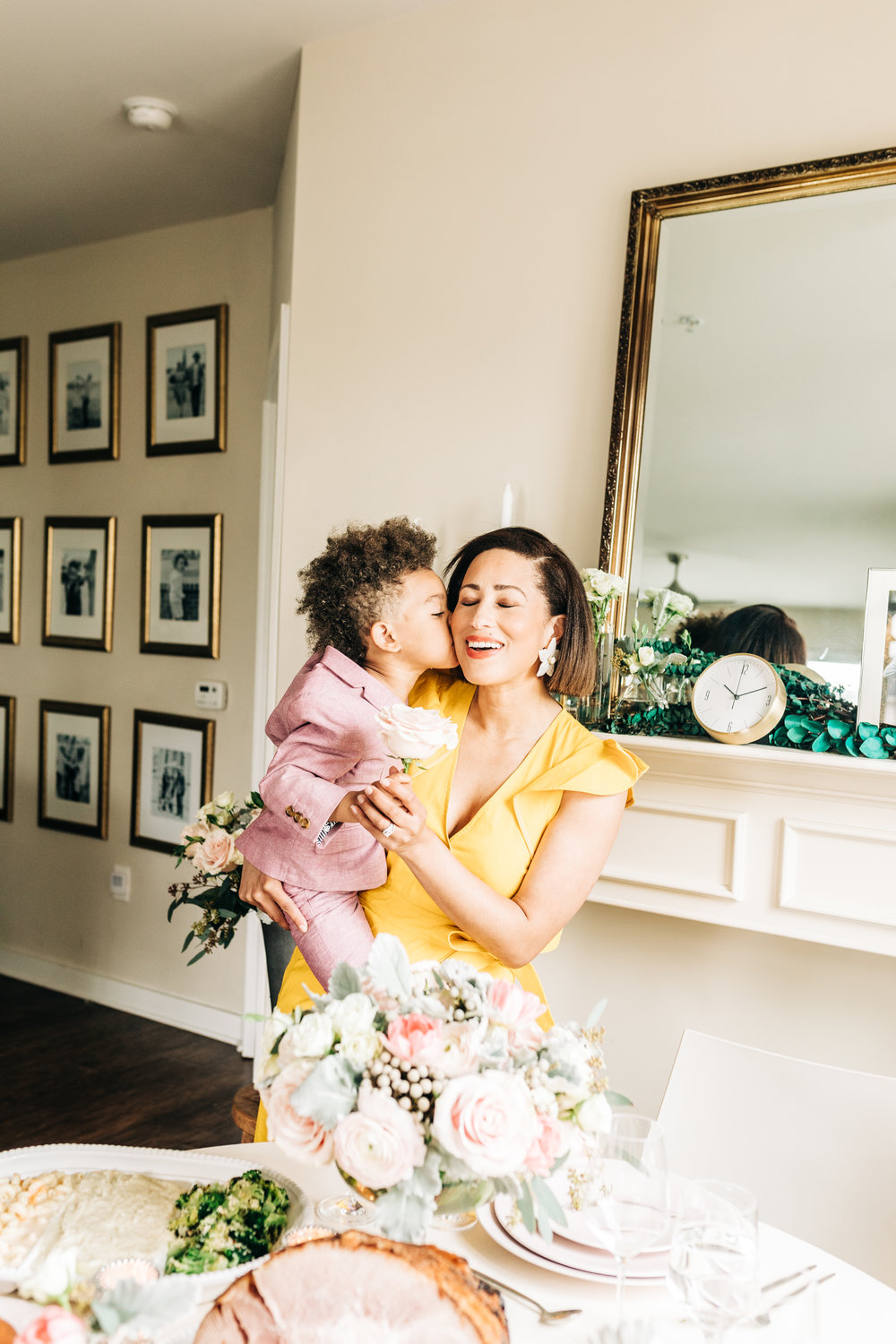 Our move into an apartment has taught me that small spaces can be just as enjoyable for entertaining as spacious ones. If you're new to living with less, follow these tips I've learned for throwing a fabulous get together in a humble abode:
Create The Mood – Make your space inviting and I promise you your guests won't care one bit about the square footage of your place. You know I'm a big fan of fresh flowers which help brighten up any space no matter the size. My friend and talented Planner & Florist Leneille, owner of Special Event Factory, helped transform our cozy dining nook with the most beautiful centerpieces. If you're in the Atlanta area, I highly recommend contacting Special Event Factory for your next event! ♡
Keep The Menu Simple – As much as I love to cook, there's nothing like keeping the menu simple or catering when entertaining. One of our favorite places to pick up food when hosting is Honey Baked Ham. Just a few minutes away from our place, it's easy to order the world-famous ham alongside their side dishes + dessert that are delicious and ready to enjoy. Family style is my favorite method of serving this meal to begin conversing and enjoying each other immediately 🙂 This year, we couldn't get enough of Honey Baked Ham's Rum Cake. It was a hit with everyone and the first to go!
Go Big In Other Ways – I love going for a fancy, feminine vibe whenever given the chance since life with three boys and a husband feels like the complete opposite most days. Use real plates ( these were rented from a local company I adore called TableMade), make pretty drinks and/or consider memorable entertainment or party favors.
Enjoy Yourself No Matter What – Don't spend your time apologizing for tight quarters or lack of space. Enjoy your friends, family and have fun! Make the most of the memories that matter.
XO,
Sarah