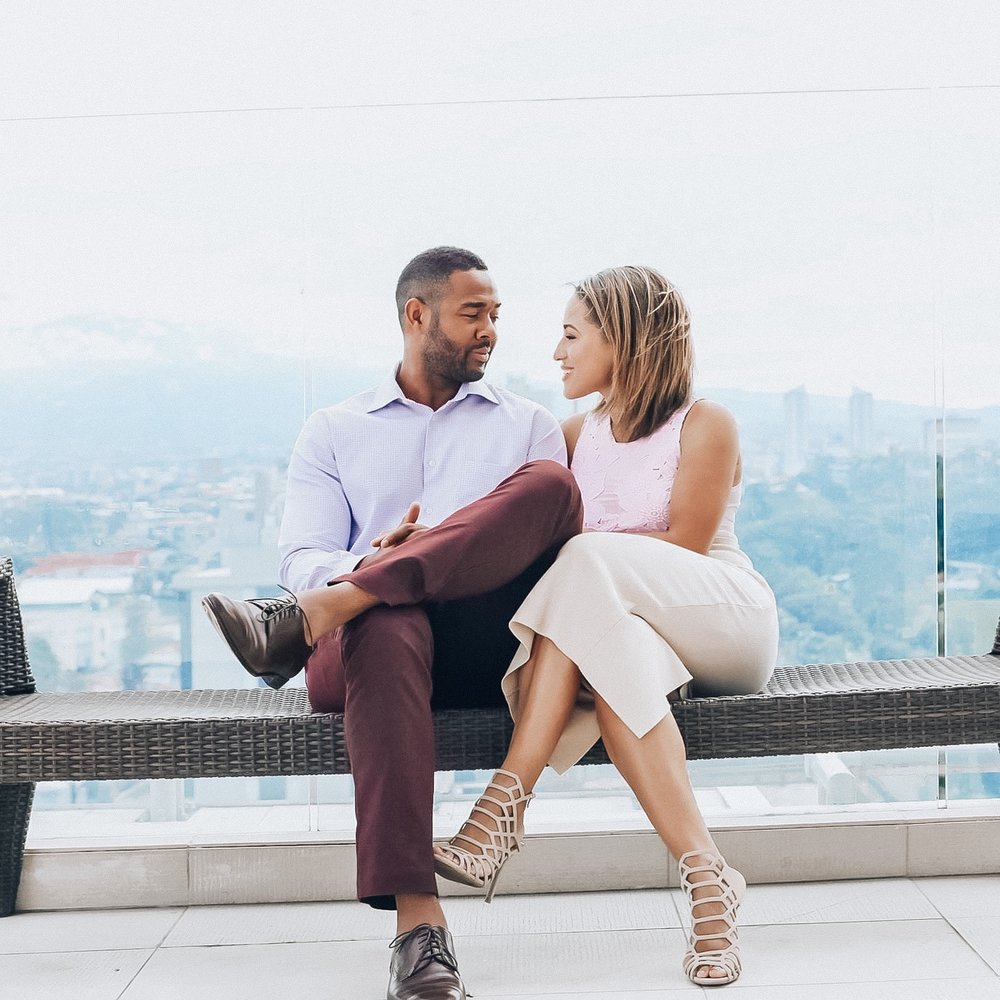 Lew and I quickly fell in love with the lifestyle in Costa Rica. The slow pace, the sense of community and the feeling of being completely fed by nature puts this beautiful place at the top of my list of favorite trips. Between the adventure, candlelit dining, showers for two, balconies overlooking oceans & forests, the country is definitely for lovebirds. We literally dreamt about moving our entire flight home. Here are our 7 of our favorite activities:
1. ZIPLINE
This was Lew and I's first zipline experience! Adventure Tours Costa Rica hosted us and it was one of the highlights of our trip hands down. We were there during the end of rain season so it drizzled a little while we ziplined, but I honestly thought it made it more fun! They have elevated platforms + high speeds with views of waterfalls & tons of wildlife. Check them out! We did their ATV + Canopy Tour and they treated us with the most amazing tropical fruit picnic at the end.
2. BEACH HOP
We rented a car during our stay and drove down the coast to beach hop–I suggest starting in Tamarindo, then heading to Playa Grande, Bahia de los Piratas, Conchal beach, Brasilito then see the sunset on Flamingo (Flamingo is our favorite).
3. ROADTRIP
We spent our entire first day on the road. Costa Rica is full of endless paths + surprises and something about driving its roads with the music on blast, windows down and nowhere to be was good for our souls! Puntarenas was the easiest place for us to get to as it's only about a 90-minute drive. (From there it's easy to hop on a boat and ride to Tortuga–the cutest island once accessible by boat).
4. GO CHASING WATERFALLS
There are so many good waterfalls in Costa Rica! We didn't have time to see all of them so we visited La Paz Waterfall Gardens. It's more of a zoo with nice exhibits, but still a nice place to walk around in and drive to. Also a place we'd love to bring the boys! If we ever visit just the two of us again, we'll definitely be exploring waterfalls and maybe even try waterfall jumping!
5. VISIT A VOLCANO
Just over an hour north of San José is Poás Volcano. We didn't realize it was closed to the public because of volcanic activity so we ended up doing a coffee tour instead. Hoping it's open again next time we visit! Double check before you go if it's on your itinerary 🙂 I believe there are five others which are still active and a ton more that are dormant.
6. SEE THE CROCODILES
Crocodiles!!! This was such a pleasant surprise. Lew is literally obsessed with these guys. We saw a few as we ziplined (I screamed so loud as we were soaring over them and praying my rope didn't break), but the biggest ones were just off the side of the road under a bridge. We pulled over and watched them for a while on our way to dinner. (and once again I forgot my camera. soooo here's the only iPhone pic I grabbed 🤗).
7. ENJOY THE PURA VIDA LIFE!
Costa Rica's official motto loosely translates into "pure life" or "full of life". It's an inherent part of their culture and the biggest reason we fell in love with the country. I highly recommend enjoying the good-hearted, laid back lifestyle Costa Rica offers–its addictive + the best souvenir you can take home for yourself 🙂
XO!
Sarah