This post is sponsored by The Home Depot, however all thoughts and opinions are my own. Thank you for supporting the brands that help make this blog possible.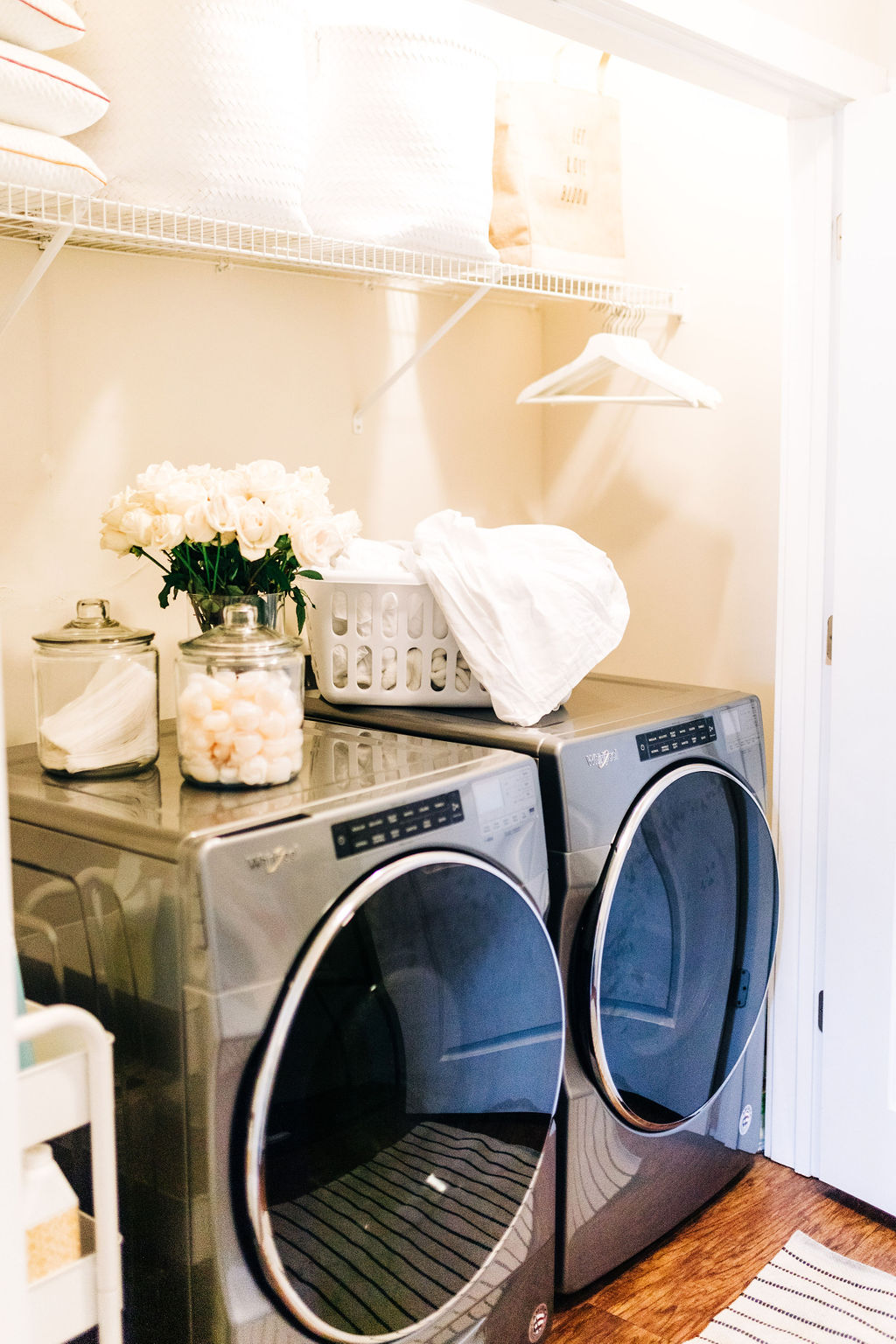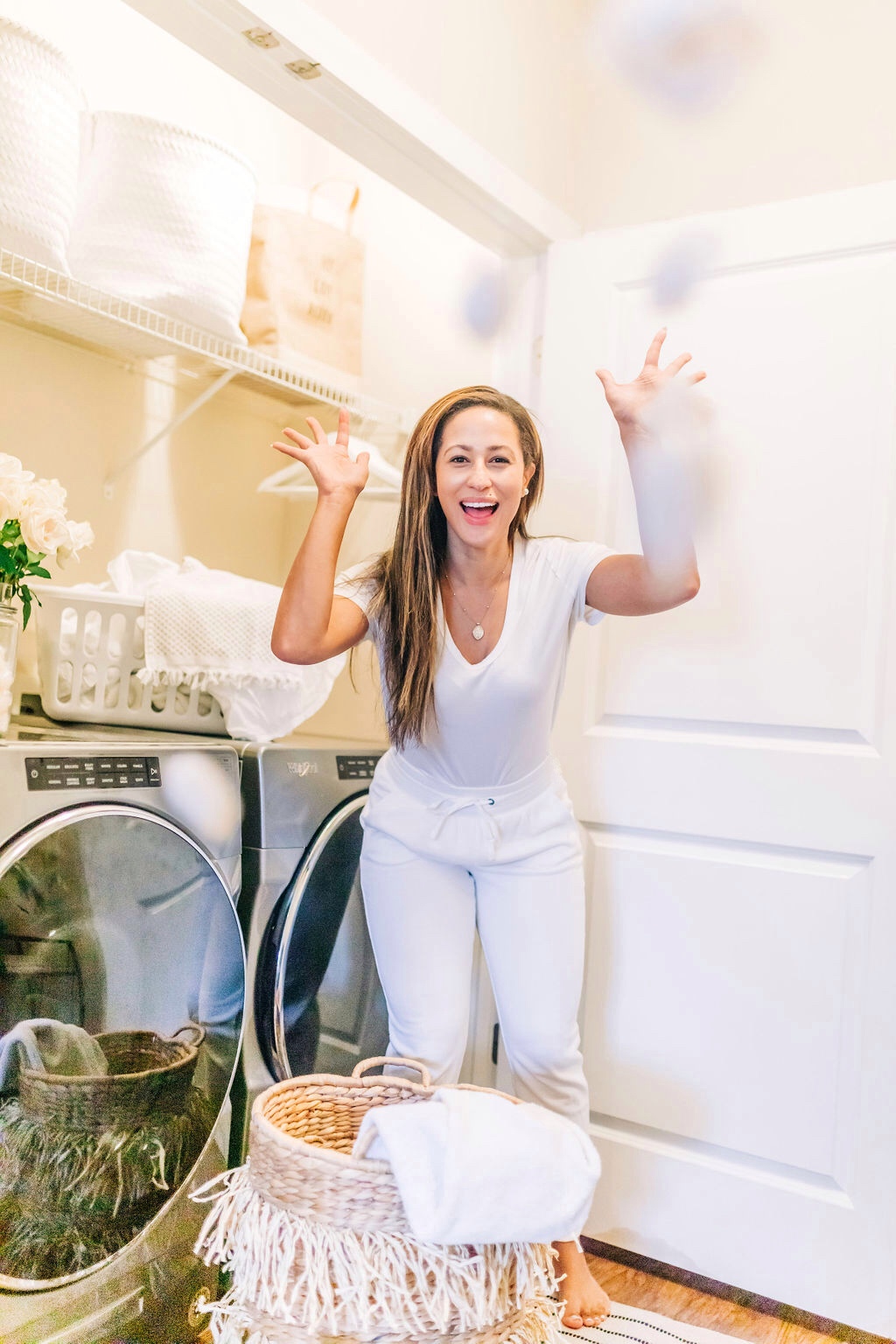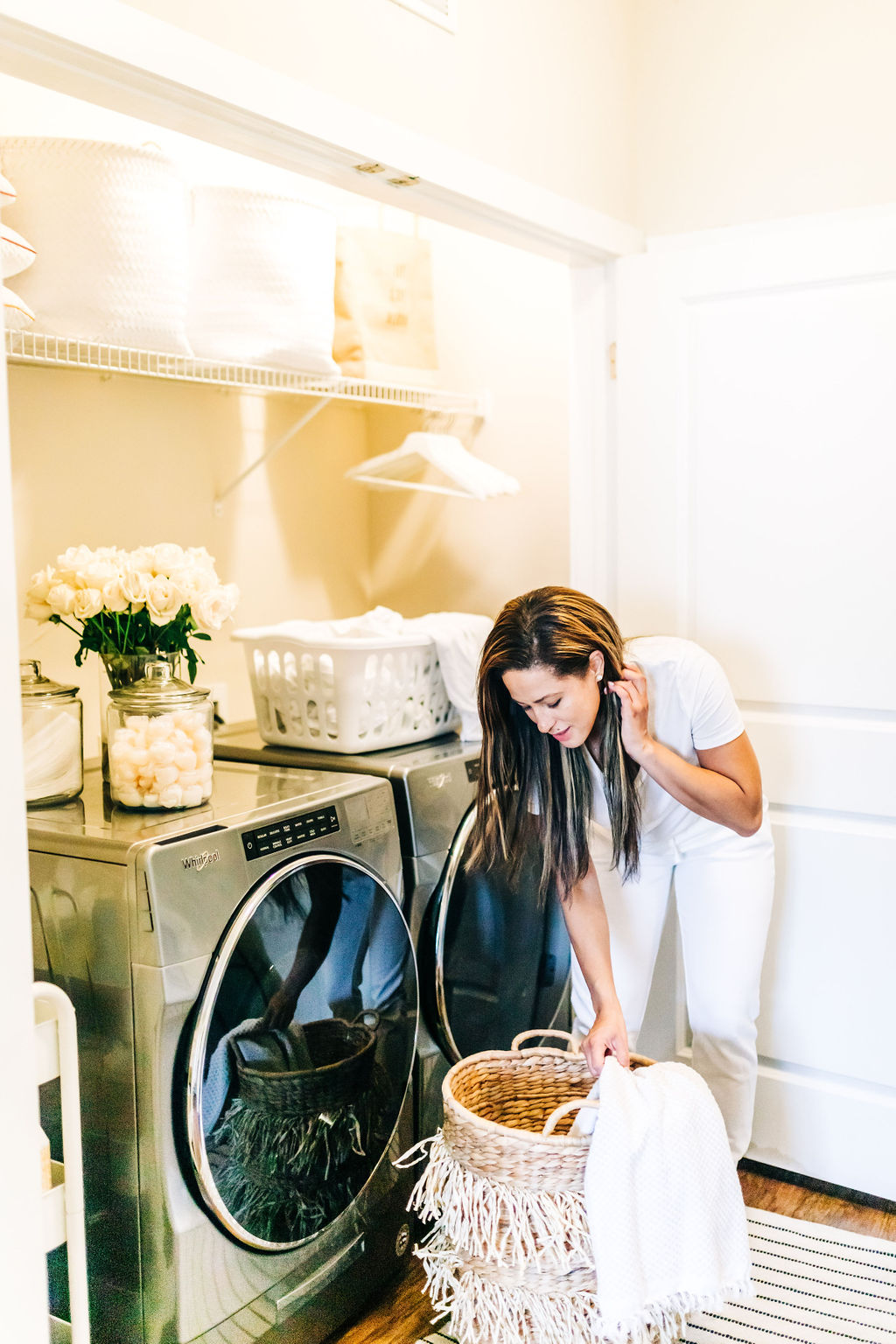 As a family of five, we're always doing laundry. ALWAYS. (Seriously, laundry is the real "lather, rinse, repeat.") So when it was time for a much-needed upgrade, we hit the appliance section of Home Depot – such a great selection! We ended up picking the stainless steel Whirlpool Load & Go washer and dryer.
It's only been a few weeks, but here's why I'm loving this matched front-loading set already:
1. You'll do fewer overall loads.
I'm proud to announce that I can now wash almost three baskets in a single load! (Look, it's the little things.) And it's not just the larger capacity that saves time. Features like the washer's Load & Go XL dispenser, which lets you add detergent once and forget about refills for up to 40 loads… how did no one think of this sooner? (There's a single load dispenser if I need to use a different detergent, which is really convenient.) And it still drops the bleach and fabric softener at the perfect time in the wash cycle.
2. It's more customized…but less complicated.
I'm still now sure how this is possible: I can customize 35 different washer and dryer cycles based on the fabric, but somehow it's SIMPLER, thanks to guided selection and Intuitive Controls. And all of my old favorite cycle types are present and accounted for as presets. I can wash just a few pieces in 15 minutes, or pre-soak or steam clean when the dirt goes deep (#boymom). While most of the boys' clothing is as sturdy as it gets, I have a few more delicate items. Not having to stop at the dry cleaner is a win.
Energy and space efficient.
Doing more good with less stuff is a big theme for our family, so knowing our new appliances are Energy Star certified is important. I'm in love with the dryer's EcoBoost option (less heat, extended time, set it and forget it). And both appliances are designed to save space, too, with a much more flexible closet-depth fit that also makes installation easier. And while we're on the subject…
Easy delivery and installation.
Home Depot offers free standard delivery on special order appliance purchases of $396 or more. Just like they promised, they called the day before to schedule our window, then let us know when they were half an hour away. (Service windows are usually… well, I don't have to tell you. Just, UGH.) But all went like clockwork. Our installation techs couldn't have been more professional as they unpacked, placed, connected, leveled, and made sure all was in order. PS – they got rid of the packing material and left the space cleaner than when they got here. Love that.
Clothes just come out better.
Whether I customize or use presets, the back-to-school clothes are holding their color beautifully (the kids picked some especially vibrant combos this year!). And I'm not gonna lie… I'm not upset that the washer and dryer each have a proven Sanitize cycle. From special water temp settings to dryer sensors that track temps and moisture, wrinkle protection, even static reduction – clothes come out looking so good I'm actually motivated to fold and put them away immediately. I KNOW.
So. Safe to say, I'm in love. And because it's the adult thing to do, I always recommend spending just a few extra dollars on a protection plan, especially since both the three and five-year plans come with 24/7 and a few other perks. But without a doubt, these Whirlpool beauties are making this part of adulting just a bit less of a chore.